Letter Options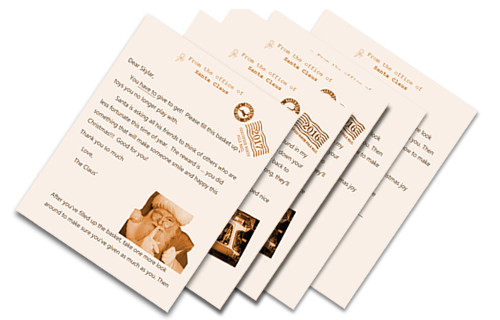 All letters are personalized, and printed on fine letterpress stationery straight from Santa's Office.? Many of Santa's letters include a spot for children to reply to Santa, these letters will be family keepsakes.
Naughty & Nice List Official Certificate

This has a fun twist, it includes two stickers a "Nice" sticker and a "Naughty Warning" sticker. A child can get an early warning, and provide Santa back with a note to get back to the Nice list – where the certificate will be revised with the included Nice sticker.

The Secret Super-Nice List

Reserved for the children on best behavior, Santa lets you know he saw the good deeds and encourages the child to keep it up.

What do you want for Christmas?

A keepsake list for the child to fill out and return to Santa

The Sold-Out Gift

Even Santa has difficulty making the most popular toys of the year.? Let him explain the situation, and find out what the child would like instead.

Meaning of Christmas (Christmas Spirit)

Who better than the big guy in red to explain the meaning of the Christmas giving spirit

Meaning of Christmas (Religious)

Santa tells the story of Jesus's brith and what Christmas is truly about.

Christmas Toy Giveaway

Santa presents a difficult but rewarding challenge for Christmas morning.? Santa asks that each child choose one wrapped gift, and give it away (sight unseen) to be donated to a child in need.

Make Room for Christmas

Leading up to Christmas Santa asks your children to make room for Christmas, by filling a box or basket with old toys to be donated.? Includes a perforated slip to promise

Elf on the Shelf

A special personalized note from your elf.

10
11
12
13
14
15
16
17
18
19
20
Each letter also comes with an Activity Sheet.